This post is dedicated to some special people we met during the last 6 months and who we all hope to meet again some day!
# Ana. Thanks for making life in Brazil even better and so much more fun!
Ana is the gorgeous Brazilian (inside as well as outside) who joined us during our days in Rio, organizing some last minute carnaval tickets at the Sambódromo (which she taught us to pronounce correctly, eventually) in a maybe not entirely legal way but it lead to so much fun for all of us that it must have been ethically correct in the end. Furthermore, she also helped us to never run out of Caipirinhas on Ipanema Beach. As if that would not have been enough good deeds to make this list, she then introduced us to Pizza Rodizio (all you can eat Brazilian Pizza) when we next saw her in Ubatuba. There are many more amazing memories that we share with Ana but there is not enough space to account for them all here. So, thank you Ana and we can't wait to see you again!
# Connor and Elliot. The coolest climbers to have ever climbed Cochamó Valley!
Thanks to this guys, we spent some immensely fun nights in the middle of nowhere when we were exploring Cochamó Valley. We were taught an amazing card game, embarrassed ourselves for not being able to hum songs properly when playing a weird but really cool activity like game and were kept busy all night finding new spots to sit together because our refugio hostess kept kicking us out everywhere for laughing too loud. In the end we moved outdoors and enjoyed one of the most beautiful views of the night sky we have ever seen while sitting around our camp fire. Their greatest beneficial deed to us, however, was for sure to introduce us to South America's best cookies: Toddies! We really hope to share some Toddies again with you as soon as possible!!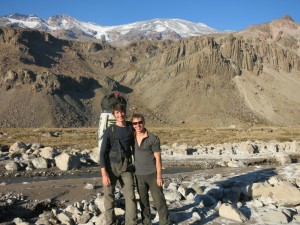 # Santiago. Our favorite Columbian and astronomer – by the way fluent in German.
We met Santiago, who now lives in Santiago (de Chile) but speaks perfect German, first in Cochamó Valley. He was not only a great person to hang out with but also equipped us with so many tips for our further destinations that he not only made the time with him really, really great, but also the time we spent following his recommendations. Thank you very much for all of that Santiago and we hope that another one of your conferences will be in Innsbruck again when we are back!!
# Julien. The French who made us conquer the toughest mountains!
Julien not only made this list but is also our all time favorite French by far. We met him on the bus to Bariloche where we spent one of the best hiking days of all our South America trip together: the track up to Mount Cathedral. After Bariloche Julien went on to discover South America along pretty much the same route that we had planned, but just a bit faster. Thus, he kept on sending through great advise on where to go and what to do and see there, especially which mountains to climb. However, Julien is super fit, so some of his recommendations turned out to be pretty t