This post is dedicated to some special people we met during the last 6 months and who we all hope to meet again some day!
# Ana. Thanks for making life in Brazil even better and so much more fun!
Ana is the gorgeous Brazilian (inside as well as outside) who joined us during our days in Rio, organizing some last minute carnaval tickets at the Sambódromo (which she taught us to pronounce correctly, eventually) in a maybe not entirely legal way but it lead to so much fun for all of us that it must have been ethically correct in the end. Furthermore, she also helped us to never run out of Caipirinhas on Ipanema Beach. As if that would not have been enough good deeds to make this list, she then introduced us to Pizza Rodizio (all you can eat Brazilian Pizza) when we next saw her in Ubatuba. There are many more amazing memories that we share with Ana but there is not enough space to account for them all here. So, thank you Ana and we can't wait to see you again!
# Connor and Elliot. The coolest climbers to have ever climbed Cochamó Valley!
Thanks to this guys, we spent some immensely fun nights in the middle of nowhere when we were exploring Cochamó Valley. We were taught an amazing card game, embarrassed ourselves for not being able to hum songs properly when playing a weird but really cool activity like game and were kept busy all night finding new spots to sit together because our refugio hostess kept kicking us out everywhere for laughing too loud. In the end we moved outdoors and enjoyed one of the most beautiful views of the night sky we have ever seen while sitting around our camp fire. Their greatest beneficial deed to us, however, was for sure to introduce us to South America's best cookies: Toddies! We really hope to share some Toddies again with you as soon as possible!!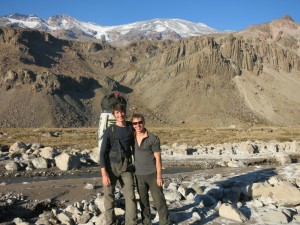 # Santiago. Our favorite Columbian and astronomer – by the way fluent in German.
We met Santiago, who now lives in Santiago (de Chile) but speaks perfect German, first in Cochamó Valley. He was not only a great person to hang out with but also equipped us with so many tips for our further destinations that he not only made the time with him really, really great, but also the time we spent following his recommendations. Thank you very much for all of that Santiago and we hope that another one of your conferences will be in Innsbruck again when we are back!!
# Julien. The French who made us conquer the toughest mountains!
Julien not only made this list but is also our all time favorite French by far. We met him on the bus to Bariloche where we spent one of the best hiking days of all our South America trip together: the track up to Mount Cathedral. After Bariloche Julien went on to discover South America along pretty much the same route that we had planned, but just a bit faster. Thus, he kept on sending through great advise on where to go and what to do and see there, especially which mountains to climb. However, Julien is super fit, so some of his recommendations turned out to be pretty tough to follow through on, like for instance a 6088m high mountain or a one day trek of 32 km taking us up to 4150 m above sea level. But we made it through all of them, always motivated by telling us that 'what a French can do, Tyroleans have to be able to do as well.' We really, really hope to see you again Julien and that we can hopefully hike together sometime!!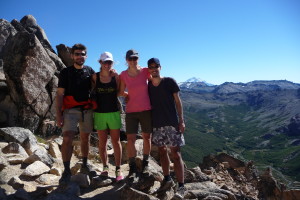 # Baukje and Harm-Jan. The sweet Dutch couple with the around the world ticket!
We met this wonderful Dutch couple first in Bariloche when we were all starvingly waiting for BBQ night dinner at our hostel, which finally was ready at Argentinian adequate 11pm. To pass the time, we got to know each other over some beers and wine and instantly felt super comfortable together. Thus, we were really happy to meet up again in La Paz and one more time in Copacabana at Lake Titicaca. Each time we had a blast together so we hope for a fourth time soon!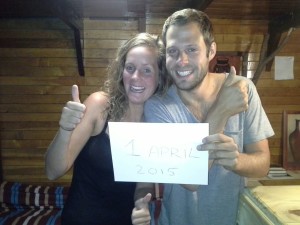 # The Uyuni Group. Fun times despite the cold nights in Uyuni!
We discovered Uyuni in a seven seater Landrover of which each seat carried a super nice and special person. Thus, our trip through this unique scenery of salt flats and lagoons was amazing, also because we shared it with them.
The protagonists of this trip were these guys here:
Regiane and Luiza from Brazil who were not only lots of fun but also made the coldest night up on over 4000 m warmer by sharing their proviant of wine and liquor.
Edwin from the States who was not only really, really cool but also took amazing pictures of us.
Fernando, our Bolivian guide who happily shared his coca leaves with us and taught us how to best chew them.
Thanks guys!!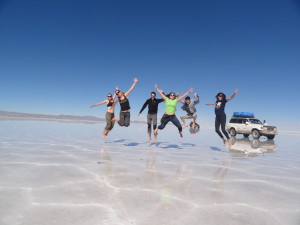 # The special Group. The one and only SPECIAL group on Salkantay trail!
The special Group encompassed seven schmicko (an Autralian expression for 'awesome' that we learned during these days in exchange for some German lessons) people as well as the three of us. Our namegiver was our maybe not so special tour guide on our way to Machu Picchu along the Salkantay trail. Despite that we were suspicious that previous groups had received a similar honorful name before us, the group to us was more than special. In fact, for us it was more of a highlight to spend five days with these guys, than seeing Macchu Picchu in the end. So thank you all, for making the Salkantay Trek to Macchu Picchu an unforgettable and wonderful memory!! We should definitely get together for another hike, or anything else, some day soon!!
So who made the special group so special?
Awesome Lena and Julian from Germany!
Schmicko Luke and bonza Jordan from Australia!
Super cool and tough Bob from the States!
Incredibly nice Marco and Ariana from Korea!
Thank you guys!!!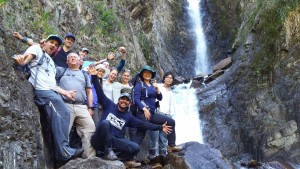 # Maribel. The loveliest Peruvian we have met!
Maribel was our room mate in Lima who made Perus capital way more interesting and beautiful to us. Furthermore, she helped us through Peruvian menus and introduced us to some local delicacies. However, apart from that she was just a great companion to spent a super relaxed and nice time just talking and enjoying life. Thanks Maribel and we hope to see you in Europe soon!!
# Anna-Lena and Verena. Our favorite and most like us volunteer-companions!
These two German girls arrived just one day after us at our volunteer house in Salasaka, just when we had already at least slightly digested our new circumstances but were still trying hard to like or at least accept our new home. Their faces and first reactions were our entertainment of the day because they reflected our first impression that we had had the day before identically, including the effort to try not to run away immediately. Thus, we instantly became friends and these two great girls made this place way, way, way better to us. Thanks girls and we hope to see you again back in Europe the latest!
# Ofir and Ethgar. Our friends from Israel!
Thanks to our two amigos from Israel whom we met first in Montañita and then again on the Caribbean Coast of Columbia, for not only making sure our Hebrew was (almost) fluent before we parted, but also for sharing an unforgettable great time.
# Cristhian. The best travel guide of Bogotá!
Our Colombian friend who, after having first met him in the North of Argentina, provided us with very valuable advise and a travel itinerary for Colombia. He also showed us around his hometown of Bogotá during two really fun days. Thank you!! We hope we can return the favor to our dear friend one day when he comes to visit us at home.
# All the awesome Brazilian people simply for being awesome!
Ok, we have made it through eight countries (or nine, if you count our excursion to Uruguay) but despite meeting lovely people in all of these places, Brazil has been the one country where incredibly nice people seem to cluster, and tightly! While there and despite of not even speaking any more Portuguese than 'obrigada' (thank you), we met so many wonderful people that we can now only tell you about a view, representatively, just to give you an impression and to also say a collective 'thank you' to all of them:
There was this time, when we got out of the bus at the wrong time and thus, accidentally got lost in a favela in Rio and had no clue, how to get out of there again. Luckily for us though, as soon as we arrived, we caught the attention of some locals who were so honestly concerned for our well-being that, out of the problem of miscommunication between us, they wrote all the information we needed for the bus to take us where we wanted to go on our arm and personally escorted us to the bus stop. That may not sound so impressive, but it really was. And also other times, whenever we asked someone for the way or anything else, not only the person asked but also at least two others around tried their very best to make sure we were helped.
Another time we were flashed by the kindness of these people was when we were on Ilhabela, the home to the most blood-thirsty mosquitoes ever, and we met this guy when we were hiking who saw some mosquito bites on our legs and thus did not let us pass before spraying us personally from head to toe with his mosquito repellent.
Also amazing were the people that we met in São Sebastiao when we were waiting for some friends to pick us up in pouring rain but could not get a hold of them with our phones. These people gave us phone cards for free and when that did not work let us use their phones until we got things sorted out eventually. And that might not sound strange to you, but in a country where people are generally afraid to even take out their mobiles in fear for having it stolen, that was amazing!!
Apart from all these, there were some people that were just so much fun to meet and hang out with and that we spent unforgettable times with! And last but not least, the ones who made us feel like VIPs when randomly wanting to take selfies with us to post on facebook because we were from Europe. Thanks to all of you! We will be back for sure to again visit your amazing country!
# Some great Argentinians
We cannot end this blog without also thanking the awesome guy that saved us from Las Vegas when we were hitchhiking to get back to Mendoza because the only bus back that day would simply not come. And seriously, saving used here is no understatement, if you don't believe it, go to Vegas and find out that one night there, (especially when you are staying with Aureliano) is way more than enough and two simply tooooo much!!Thanks also to the guy in San Carlos de Bariloche who picked us up when we were stranded after a hike with no busses coming anymore and a 10km further hike back to the next town. Also, while talking about Bariloche we also want to thank the people that came up with the recipe for the chocolate ice cream at Rapanui – it is the most amazing ice cream ever, ever, ever in the whole world and made us so, so happy!
# Some great Chilenians
Here the special thanks go to the two guys whose names we sadly cannot remember (most likely due to our slightly out of balanced state after dancing and drinking all night in Santiago) but who took us all the way home to our hostel which was more than a hours journey and in the opposite direction of where they had to go on their way home. Thank you so much! Who knows where we would have ended up without these guys!
# Some great Bolivians
Also in Bolivia there were a few people that we cannot thank enough: for instance, the driver who took us safely along the Death Road to Rurrenabaque in almost record time and without any accidents or happenings. Also a big thanks goes to Luis, the guy who pretty much runs the town of Rurrenabaque: He picked us (and all others that arrived with the night bus in Rurre) at the bus terminal at 5am and put us in a taxi to the town's French Bakery where we had the most amazing chocolate and apple bread of South America.
# Ricardo and all the other wonderful Venezuelans that helped us out!
Thanks to this guy who rode with us in the same collectivo (shared taxi) from Maicao to Maracaibo and somewhere on the way must have realized that without his help, we would probably get robbed already at the bus terminal before being able to buy tickets… so despite being eager to get home to his family, he stayed and helped till we were set up and ready to make our way to Caracas. Apart from him, however, many other Venezuelans kept helping us out on a daily basis (eg. the lady that offered to lend us money to pay for our hotel room when we got robbed, the sweet girls that worked at the hotel when we got robbed and who helped us to get sorted again…). Thanks to them all we made our way through the country without major setbacks or damages while having a blast and were collecting unforgettable memories.
# Our mum's, dad's and friends at home. Without you, this would not have been possible!
Despite that of course we did not meet them here, they still so very much deserve to make this list: without them, we would not have made it this long here, no way! They were there when we just needed someone to talk with, saved us all so many times and helped us to solve bank troubles when a card got copied and one became useless after breaking a phone, they made sure we got the medical support from home when doctors here could not be trusted much, they sent us stuff we had forgotten to bring and they sponsored our adventures with love and care. Huge and many thanks to all of you! You are awesome!!